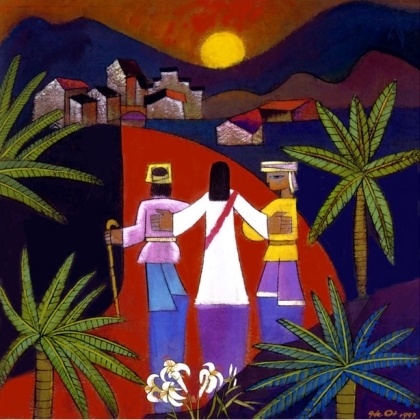 Update on November 18, 2012--Congregational members at the Annual General Meeting unanimously passed the Mission and Vision Statement!
The Mission and Vision Team (MVT) began March 2012. Six members formed a team who were asked, by the Board, to facilitate a congregational conversation to develop a clarified mission and vision (Sarah Wright, Alden Haggerty, Jim Heuving, Ren Giesbrecht, Glen Forrester, and Brian Buhler).
Our third and final congregational forum was on October 21. Sixty-one people participated, not including children, care workers and surprise guests. The discussion was robust. The outcome was a hearty endorsement of the presented statements with priorities identified: Emmaus Groups, Discipleship, Cloverdale Community Kitchen and Spiritual Formation (Potter's Wheel)
The MVT had one last meeting to respond to all the feedback and present a summarized report and statement to the Board. The Board received the MVT submission. The Board supported the statement and now the Board is presenting it to the congregation at the AGM on November 18.
The MVT has completed its work. The congregation participated in three forums. The Board has has reviewed and accepted the work of the congregation. We sense that the Spirit has done its work among us. The statement is a call, an invitation and a challenge. Is this the life we agree to pursue together? We decide together this Sunday after church at the Annual General Meeting.
The statement is as follows:
Mission Statement[1]
Embraced by Christ; Embracing His World
By the Holy Spirit, we seek to be a worshipping and discipling community that embodies the vocal and visible presence of Jesus in our neighbourhoods and nations of the world through transforming relationships of love with God and one another.
Vision Statement
Personal Transformation
We seek to be a community that cultivates a contagious culture of personal ownership for spiritual growth and discipleship that results in ongoing life transformation and intentional missional living.
Goals and Objectives:
Operation Timothy

– We will start 10 new year-long discipleship groups within the next two years with the goal of equipping an expanding network of disciple makers who practice spiritual disciplines and personal accountability.
The Potter's Wheel

– We will develop an Alpha-like program for launch in September 2013 and a series of other recurring and key formative opportunities (e.g., Newcomers Class, Gift Discovery, Missional life) within the next two years to guide new people into the life of God's mission.
Re-Centering Youth & Children's Program

– Beginning September 2013, we will revise and re-shape our existing Children's Ministry program and Youth Ministries to be centered on disciple transformation.
Neighbourhood Transformation
We seek to be a prophetic and life-giving presence of Christ, serving our neighborhoods and local community so that our neighbours and friends will experience God's transforming love in Jesus.
Goals and Objectives:
Emmaus Groups

– We will explore various models and options for missional parishes that combine pastoral care, discipleship and missional outreach to their surrounding neighbourhoods. We will work toward establishing 4 such Emmaus Groups by September 2013 and another 4 Groups in September 2014.
Community Kitchen

– We will seek to renovate our current kitchen, starting with the launch of a fundraising campaign this fall toward the construction in Summer 2013 of a fully-equipped kitchen facility. This will allow us to double our Community Kitchen initiatives by fall 2013, providing meals for the poor and homeless twice a week, and to enable the exploration of partnering opportunities including the possibility of a catering initiative using the disabled.
Mid-Week & Summer Programs

– We will develop community outreach initiatives for youth and children potentially for summer 2013, but certainly for fall 2013 (e.g., DVBS, Soccer Camp, Awana, etc.) under the leadership of our Children and Student Ministries Pastors.
Global Transformation
We seek to participate in God's mission by leaving our provincial comforts and boldly crossing into different cultures and other nations so that we and those we seek to reach may be transformed by the love of God.
Goals and Objectives:
International Missions

- We will develop a close working relationship with at least one foreign mission field by September 2013 that provides opportunity for congregational members to participate in global mission efforts or other people groups.
Local Missional Partners

– We will establish and/or clarify our missional partnerships with four external groups over the next three years (e.g., Mosiac Church – Don Cowie, Young Life – Brendan Weidner, YFC – David Morgan) and also develop and support participation by congregational members in specific social justice and human dignity initiatives (e.g., Defend Dignity, Night Shift, Servants Anonymous Society, etc.).
Operation Jacob's Well

– We will research ways and opportunities for reaching out with the Gospel to different ethnic groups within our community and initiate at least one such initiative within the next two years.
---
[1] Draft 6 – October 31, 2012
Comments for this post are now off.