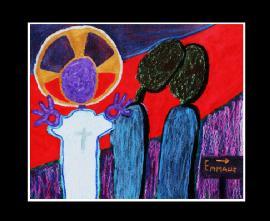 We are beginning an important journey. Luke tells the story of how Jesus shows up as two guys made their way home (Emmaus) after he had died on the cross. It was a surprising encounter! We have a real sense that this Mission and Vision journey is surprising us with a new awareness of what it might mean to be his people in our neighbourhood and the world.
Pastor Brian will be introducing a mission and vision for Pacific Community Church. The Board initiated a Mission and Vision Team who have met for six months and who have facilitated two congregational forums before the summer. Our primary goal was to discern God's specific and tangible mission for our community. We are not yet done, but as a team we think we have travelled a long way and feel ready to offer it up before you. This sermon series represents our best discernment and our best attempt at stating it succinctly, at this point. The messages will provide all of us opportunity to interact with God and each other.
We want you to participate in helping to discern God's mission and vision for Pacific. Our goal is to encourage the whole congregation of God's people to a place of shared agreement and commitment. We will introduce a leading mission statement that seeks to identify who we are. We will introduce three key vision statements about where we see God leading us in the next few years. We will introduce some key strategic initiatives to put it into action. You can see that this will be important for you, your family and all those at Pacific. It is exciting. We recognize that this is less about our work but about what the Spirit of God is seeking to do through us. Our hope is to walk and talk together in these next few weeks in order to agree about how we will move together in the next few years.
Two Congregational Ways to be Involved:
This blog provides you an opportunity to share your thoughts, reflections and encouragements. We will have weekly blog entries. We invite you to dialogue with us online. We will answer questions. (i.e. How do we define mission, vision? Who was on the Mission and Vision Team? What happened at the Forums? etc.) We will explain, as best as we can, how we came to discern what is being presented. The Mission and Vision Team has worked hard so that we can have a very good conversation now.Remember that this blog is public forum and that we will monitor inappropriate comments (that really goes without saying).
We are organizing a third congregational forum to follow up the sermon series. This will be in October. More information will come. The forum will be key as we hope to finalize and seek to arrive at a congregation wide agreement about what God is calling us to do now and the next couple of years. We hope you make this forum a priority!
Other Ways to be Involved:
You can talk informally with others. Healthy conversations are creative and life giving. They provide you ways to think through and consider. Invite friends and chat it up.
You can talk more formally at your team meetings and small group meetings. How does this mission, vision and strategic actions shape our ministry?
You can pray. We seek to discern God's specific direction for our community. The big concepts are clear but the challenge is how do we translate them into how God wants us to live in our world today.
Strike up a general conversation with the Mission and Vision Team members.
Test your best discernment online or at the forum.
The Mission and Vision Team:
Brian Buhler--Senior Pastor
Glen Forrester--Chair of the Board
Ren Giesbrecht--Board member
Alden Hagerty--Attendee and Worship Team member
Sarah Wright--Member at pacific and great volunteer
Jim Heuving--Executive Pastor
1 Comment
---
Comments for this post are now off.