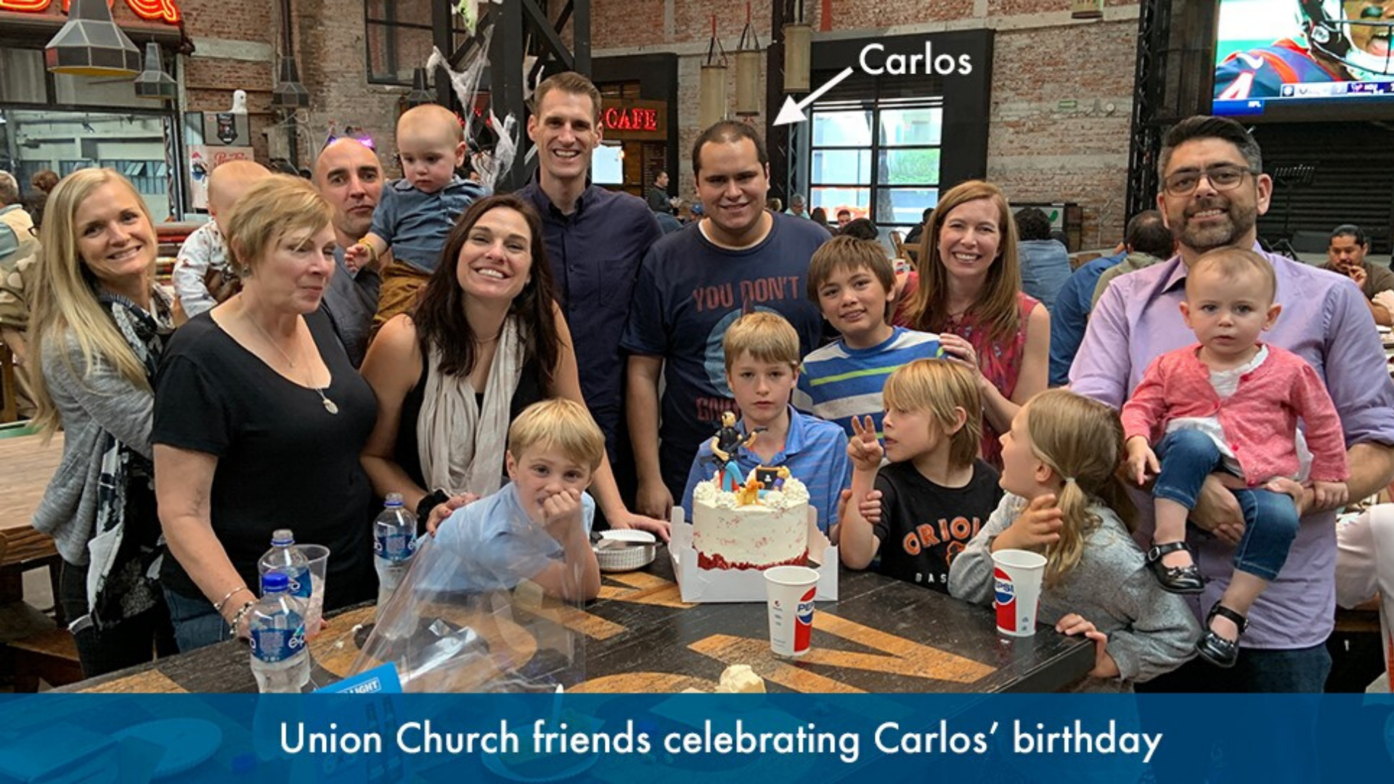 International Community
We are so grateful for the opportunities to partner with Union Church as we build relationships within the international community of Mexico City and begin to go deeper with Jesus together.
Angela continues to meet regularly with women from the International Women's Club and is building relationships with other moms through the boys' school. One of the ways we are seeing opportunities to build relationships is by being involved with social justice organizations within the city. This past month, we were invited by an expatriate friend to attend a fundraising gala for
El Pozo de Vida
- an organization that works to rescue and restore people, especially women, from human trafficking. Expatriate women are often following their spouses on these international work assignments and are looking for meaningful ways to fill their days so they are eager to get involved in social justice initiatives. We are praying for ways to work together and invest in these Kingdom movements and share Hope and meaning in Jesus with these new friends.
In September we began the first initiative of the Alpha Video Series with Union Church. We are giving leadership to this initiative along with Kelly and Robbie - a friend from Union and longtime expatriate living in Mexico City. We are about half way through and we have been blown away by the investment of our volunteers and the trust that has been built around the tables. We have 3 english conversation tables and 1 Spanish conversation table. This weekend, November 2 from 9:30-4pm, we will be having an extended Full Day on the Holy Spirit.
Please pray with us for all involved to grow deeper in Jesus and in freedom and fullness of the Spirit.
Through contacts that Chris made at a national level with Alpha here in Mexico, he has been invited into more participation and so we continue to pray for discernment as we look for partnerships in reaching and discipling the international community.
The international men's group that Chris has been apart of for the last 6 months continues to meet monthly and grow deeper. We are grateful for the willingness and desire for these men to be in real friendship with one another. This is a unique group and for some it is the first time to be involved in something like this - intentional conversations about faith and life and family.
The International Ministry of Mexico City team is growing as this fall Chris was asked to give leadership support and care to our Chinese Church planting team. He is also now on the leadership team for the whole Mexico City team and hopes to contribute and bring value to all our International Workers here in the city.
We are beginning to lead a small group in our neighbourhood of Polanco. We desire to lead well and also lean into what God is doing here right in our own neighbourhood. In November, we are also beginning to gather people who either live and/or work in our area to begin deeper research on needs, both physical and spiritual, within our community.
Please pray with us that as we continue to lean in to what God is doing here in Polanco specifically and that clarity will come as we look to the future of a new international Gospel expression here in Mexico City.
Home
The boys have had a good start to their new school year. It is hard to believe that they are now in Grade 8 and Grade 10. Both boys have joined athletic teams at school (Mackenzie - track, Lukas - football). It has been a good personal challenge and also way to be apart of school life in a deeper way. We are thankful for the friends they have through Union Church and they love to keep their weekends full as they connect with friends that they do not get to spend time with during the week. Lucia is now 18 months old and continues to keep all the rest of us busy and laughing as she actively and curiously explores the world around her. She loves music and is learning to sing and dance along. She also loves to watch dogs and busses from the balcony of our apartment!
Finances
Thank you for your care and support expressed through your generosity! Your giving to the Global Advance Fund allows our presence to bring access to Jesus here in Mexico City. We truly could not do this without you.
As you think and pray through your giving strategies nearing the end of this year, we would be grateful if you would consider giving to one of our ministry funds which you can find on our giving page
here
or by clicking the giving page graphic below:
Explanation of funds:

Chris and Angela's Support - This is the Global Advance Fund which enables IW's like us to get to their fields and give access to Jesus (housing, allowance, children's education etc.).

Chris and Angela's Work Fund - This enables us to do ministry and reaches further than the Global Advance Fund (show hospitality, equipment purchases, Alpha course expenses etc.). We are looking for 10 donors to consider giving $100 monthly.

Chris and Angela's Outfit Fund - You reached the limit with your gifts this year! Thank you! Please do not give to this fund until the new year!
Mexico City International Church
- This fund goes specifically to the Mexico City International Church Plant. More info to come...


We are looking for a small group of people who will form a prayer team to pray specifically for the International Church plant here in Mexico City

We are looking for people who will commit to pray everyday, meet once a month with the prayer team by video conference/telephone to pray together, and be willing to interact with us and the prayer team as the Lord leads. Please write us if that interests you or is something you sense the Lord asking you to be a part of.
To sum up the prayer requests:
• Please continue to pray for the boys that they will grow deeper in Jesus and deeper in friendships both at school and church.

• Please pray that the relationships that are forming with men and women in the international community continue to grow deeper and for more divine conversations and connections as we live life together in this huge city.

• Please pray for Alpha that God would use it to bring all of the volunteers and participants deeper in their relationship with Jesus no matter where they are in the journey. And for spiritual protection in homes and families as people step into deeper places in faith.

• Please pray that we would be alert, steadfast and discerning in the midst of spiritual opposition that we are experiencing through all these good things.
We are so grateful for you! Thank you for praying with us! Thank you for giving to the Global Advance Fund! Thank you for your encouraging emails! Thank you for partnering with us!
With love,
Chris, Angela, Mackenzie, Lukas and Lucía