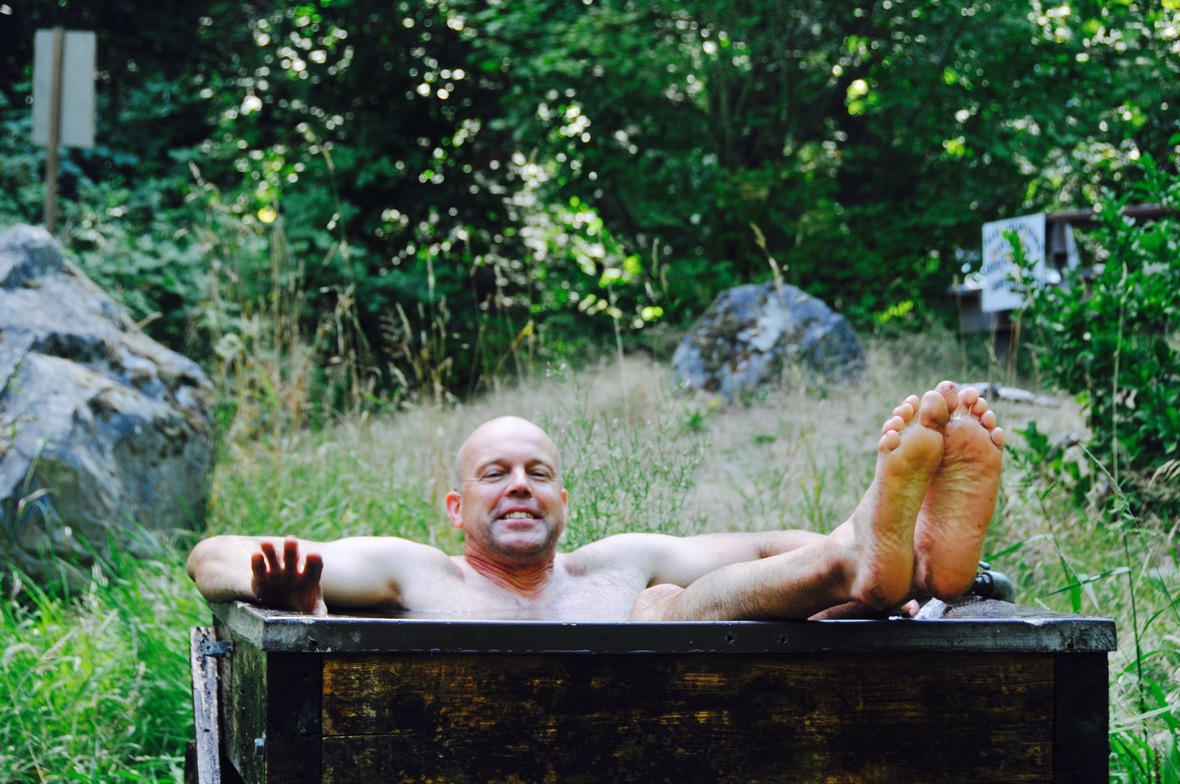 Pacific's second trip to Mount Currie was made by a team of 13 people from Pacific led by Tim Higginbotham, one of our own, who is the Operations Manger of North American Indigenous Ministries (NAIM) and member of our Pacific Missional Team. NAIM is an organization that has significant and long lasting presence among the First Nation peoples in North America.
Departing Monday July 16, the team safely travelled the three hour trip to get out behind the North Shore Mountain range and be part of setting up the annual summer camp along the the Lilloet River--along the river known as the skoomumchuck (very strong water). The camp has been going for over twenty years and in the last couple of years, Pacific has been invited to help set up the camp. Setting up includes all things very workmanlike--cleaning and painting outhouses, cleaning and painting kitchen facilities, setting up tents, cleaning and preparing swimming pool, and any other necessary work and problems that need to be resolved so that the following week the kids and the leaders can jump right into their activities.
Our team was joined with a number of other people, including the camp director, Don and his friends: Bert and his daughter-Mount Currie residents and tireless supporters of the camp, and four First Nation youth who had been part of the camp in prior years. Together with them, we sweated it out to get the camp ready for about 80 to 100 First Nation childre the following week.
There were great and touching moments throughout the five days our team was there. Vern and Sylvia, owners of the property who allow the camp to happen on their land, graciously offered us hospitality in a very moving and First Nation's type of way. The younger members of our team made friendships with the First Nation graduates who helped us out. We met a more substantial team out of Chicago who arrived to lead the camp the following week. We participated in a blanket exercise that provided us a creative and powerful way to experience the profound realities and results of First Nation struggles in Canada. We returned home altered.
Our team was special. Three families: The Davisons (James and daughters-Mia, Eva, Katina); The Masts (Sarah and two children-Lukka & Anikka); The Heuvings (Jim and two boys-Eric & Iain), Justin Duncan- a Young Adult now off to TWU and who was part of our youth group last year; Olivia Harder, our summer intern who helped organize the details; Tim Higginbotham our team lead.
The Pacific Missional Team who seek to facilitate the missional activity at Pacific by encouraging generosity, participation and bold efforts globally and locally, believe that our initial attempts to build relations with the First Nations Community is very important. As Tim Higginbotham highlighted, it is an important response to the Truth and Reconciliation process that Canada has been involved with. It is one thing to go around the world to address poverty and injustice. It is a whole other thing to do so in your back yard when you are directly complicit in the realities God is calling you to address--the need for truth and reconciliation.
We have had some good support to make the trip happen but it would be great to add to that initial generosity so that we can gift NAIM with extra support and ensure our expenses are covered. You can give directly to the Missional Fund--Mount Currie Outreach Trip.
Oh Yeah--the picture is of James Davison lounging in the Hot Spring just down the road. That was a welcome treat after cleaning the swimming pool... We will have more pics and stories to come.
We look forward to sharing more with you when the summer is over and we can gather together in worship to share what God was doing in Mount Currie!