Cloverdale Christmas Hamper Season
Cloverdale Christmas Hamper Season
December 1, 2017

Jim Heuving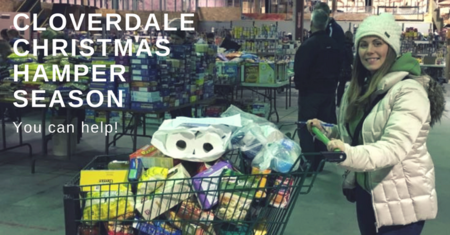 The Cloverdale Christmas Hamper Project has been happening for over 25 years. Every year it is supported and accomplished by the citizens of Cloverdale. Hamper operations will move from Pacific's warehouse to the Cloverdale Agriplex. Unlike previous years where we started operations a few weeks from the big Saturday when Hampers are handed out, we will have but one week to receive everything, sort everything and then ship out everything. It will be a big but fruitful rush of energy and generosity.
You can help in many ways:
1. Donate food items. Hundreds of receiving boxes can be found around town at schools, businesses and churches.
2. Donate funds. All funds go directly to purchasing food items, toys, and addressing poverty in Cloverdale. Pacific is having a special offering on Sunday, December 10 for the Hampers.
3. Volunteer-Call 604-574-4001 or email the organizers
December 10 Setup Party at the Agriplex (1:00pm): A whole crowd of volunteers are being organized to set up the agriplex and begin sorting the food..
December 11-15 Sorting and Packing: Groups of volunteers througout the week to help sort and pack hampers. Times are flexible.
December 16 Final Day:

Many volunteers are already being organized for the big day.
Groups At Pacific Cloverdale Christmas Hamper Group