Youth Pastor Position
Youth Pastor Position
December 22, 2017

Jim Heuving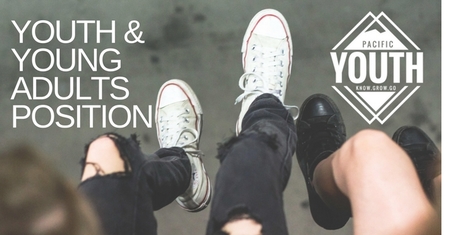 We are looking for an experienced youth worker who will cultivate leadership and adventure among the youth and young adults at Pacific. It is a half time role to be mixed with another key half time role. That other half time role can be one of a number of options. Listed in order of preference: community life, worship, communications/graphics design. The leading half is that of Youth and Young Adult.
You will be passionate about establishing the foundations of the faith as your number one goal. Some call it catechesis. We like that word and what it suggests. You will love the way we understand and seek to live out the mission of God's church in the world. We are less interested that you can be hip and do a hop and more keen that you get the gospel, live into the purpose of the church, and can cultivate a thriving community of youth by equipping energized leaders young and old. You will show by your experience that you can do this.
You will also need to blend such youth passion with another key task in the church—Community Life. Connecting with newcomers, creating opportunities for people to engage, and helping people form groups where they can fellowship, learn, and be on mission. You will join an established team, but you will become a catalyst to move community life forward.
You will need to be excited about the way we understand ministry at Pacific—check out our "Distinctives" and "Mission" because we will want to know what shapes you theologically and missionally. You will need to be creative and thoughtful. Developed leadership wisdom will be a great asset. We don't really need big-time, do-it-all, type of leaders. We need a compelling leader who knows how to form teams of leaders and volunteers who are invested in making things happen for the sake of God's mission.
You will need to be a good communicator and teacher. You should be able to teach a good lesson easily and at any time. You should be able to tell the gospel story from Genesis to Revelation like you could give directions to your home. Understanding the Christian faith well is not just a curiosity of yours but a primary goal because you will need to be "theologically" competent in order to shape a life-giving educational ministry for youth.
You will need to be an accredited worker in the Christian & Missionary Alliance denomination. If you are not one yet, simply connect with the Dwayne Toews, Assistant District Superintendent, who will gladly work with you to become accredited. You can interview us without the accreditation but your hiring will be dependent on it.
You will need to be administratively and technologically savvy with today's sort of techy digital tools. You should be comfortable and already skilled with online communication and data base systems. You will need to be quite capable in using computer systems and standard software programs (i.e. outlook, google mail, google calendar, word, website management, etc.). These are the basic tools of the trade in today's world.
We are looking for someone who has a combination of proven Christian leadership, developed understanding of God's mission in the world, zeal for church ministry, skilled around basic computer and technological tools, and desires to establish and expand the impact of youth ministry in our community. Perhaps you don't have all that is listed above. Our hope is to simply find the right sort of person who has a compelling combination of skills that we sense fits well into this role and our church team.
If you are interested, give us a call or send a note. We can begin a conversation. We are ending our search process only when we have met the person who we think can do the job. A more refined job description is available upon request. To apply, forward a covering letter, a resume, and a completed employment application to Jim Heuving, Executive Pastor.
Admin Staff Opportunities