Prayer Ministry Training Seminar
Prayer Ministry Training Seminar
Saturday, January 13, 2018

Important: This event has already occurred.

1:00PM - 5:00PM
Pacific Community Church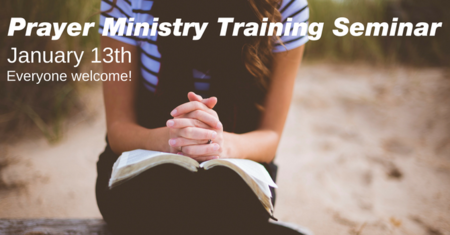 The prayer ministry team is inviting anyone interested in learning to pray more effectively to join us at our Prayer Ministry Training Seminar!
Wanda Kopp (from our healing conference) and Sara Maynard (a national leader in prayer ministry) are coming to Pacific to further train our community on:
how to serve one another well in prayer
how to facilitate someone having an encounter with Jesus that could bring healing to areas of our stories that need it most
how to listen to the Spirit in prayer
There will be practical teaching on all of this, and some activation. This event is for all those who already pray for people at Pacific, and we are inviting all those who are interested in serving in prayer. This will be amazing!
Where: Pacific in Room 125
When: Saturday, Jan. 13th from 1:00 - 5:00 p.m.
Cost: Free
Everyone is welcome!
Please click here to sign up!
Groups At Pacific Worship Groups
Return to Events
Save Event to your Calendar
---