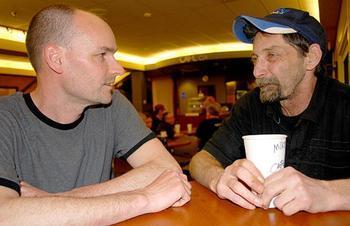 Monday Night Cafe (MNC) is a place where some of Cloverdale's financially struggling residents and homeless can make themselves at home for a couple of hours. They are served a warm meal, coffee and usually some tasty treats.
Now that the Cloverdale Community Kitchen has had it's final approval and permits approved, Monday Night Cafe is back up-and-running. This means that we are looking for individuals and groups to be a part of this ministry at Pacific!
The commitment is small. You can help by serving food, preparing food, doing set-up or clean-up, or just come and share a meal and have a conversation to build relationships.
MNC really needs male volunteers as we aim to provide, not just a warm meal, but also a safe environment for the diners and volunteers.
Is your Emmaus Group looking for a service opportunity? Maybe your group could take a Monday every 8 weeks?
Like to cook and want to use our new kitchen equipment?
Feel intimidated to cook a meal, but have some muscles to take down tables and wash dishes?
Contact Gloria Fraser ASAP if you are interested in hearing more! (604) 574-4001 ext 108 or [email protected]