Recommended Books
Below you will find a list of recommended books that your Growth Group may consider using as a discipleship resource.

1. "Sacred Pathways: Discover Your Soul's Path to God" by Gary Thomas.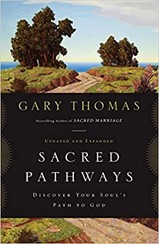 Brief Description
Sacred Pathways reveals nine distinct spiritual temperaments--and their strengths, weaknesses, and tendencies--to help you improve your spiritual life and deepen your personal walk with God.

Whatever temperament or blend of temperaments best describes you, rest assured it's not by accident. It's by the design of a Creator who knew what he was doing when he made you according to his own unique intentions. If your spiritual walk is not what you'd like it to be, you can change that, starting here. Sacred Pathways will show you the route you were made to travel, marked by growth and filled with the riches of a close walk with God.

Note on the Author
Gary Thomas is a bestselling author and international speaker whose ministry brings people closer to Christ and closer to others. He unites the study of Scripture, church history, and the Christian classics to foster spiritual growth and deeper relationships. Gary's unique message will help you:

· Embrace the unique way that you interact with God.
· Partner in the spiritual growth and character formation of your spouse.
· Build a closer, grace-based family.
· Enjoy God with a new sense of freedom and delight.

Where can I purchase Sacred Pathways?
To purchase Sacred Pathways, click here.

2. "Crafting A Rule of Life: An Invitation to the Well-Ordered Way" by Stephen A. Macchia.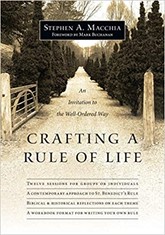 Brief Description
Your personal rule of life is a holistic description of the Spirit-empowered rhythms and relationships that create, redeem, sustain and transform the life God invites you to humbly fulfill for Christ's glory. All of us have an unwritten personal rule of life. We wake at certain times, get ready for our days in particular ways, use our free time for assorted purposes and practice rhythms of work, hobbies, and worship. There is already a rule in place that you are following. Isn't it time to give up your unwritten rule and prayerfully write one that more closely matches the heartbeat of God?

In this practical workbook Stephen A. Macchia looks to St. Benedict as a guide for discovering your own rule of life in community. It is a process that takes time and concerted effort; you must listen to God and discern what he wants you to be and do for his glory. But through the basic disciplines of Scripture, prayer and reflection in a small group context you will be lead forward in a journey toward Christlikeness. The invitation is transformational, so brace yourself for sweet release. By letting go and trusting God, you will receive the gift of life in its fullest and richest form.

Note on the Author
Stephen A. Macchia is the founder and president of Leadership Transformations, Inc. and the creator of the CHAT Survey for churches. He also serves as the director of the Pierce Center for Disciple-Building at Gordon-Conwell Theological Seminary in South Hamilton, MA. Steve is the author of 14 books, including Becoming A Healthy Church, Becoming A Healthy Disciple, Becoming A Healthy Team, Crafting a Rule of Life, and Broken and Whole.

Where can I purchase Crafting A Rule of Life?
To purchase Crafting A Rule of Life, click here.

3. "Echoes of Scripture in the Gospels" by Richard B. Hays.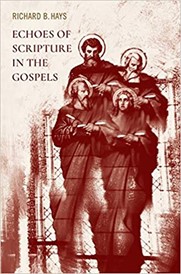 Brief Description
The claim that the events of Jesus' life, death, and resurrection took place according to the Scriptures stands at the heart of the New Testament's message. All four canonical Gospels declare that the Torah and the Prophets and the Psalms mysteriously prefigure Jesus. The author of the Fourth Gospel states this claim succinctly: in his narrative, Jesus declares, If you believed Moses, you would believe me, for he wrote about me (John 5:46). Yet modern historical criticism characteristically judges that the New Testament's christological readings of Israel's Scripture misrepresent the original sense of the texts; this judgment forces fundamental questions to be asked: Why do the Gospel writers read the Scriptures in such surprising ways? Are their readings intelligible as coherent or persuasive interpretations of the Scriptures? Does Christian faith require the illegitimate theft of someone else's sacred texts?

Echoes of Scripture in the Gospels answers these questions. Richard B. Hays chronicles the dramatically different ways the four Gospel writers interpreted Israel's Scripture and reveals that their readings were as complementary as they were faithful. In this long-awaited sequel to his Echoes of Scripture in the Letters of Paul, Hays highlights the theological consequences of the Gospel writers' distinctive hermeneutical approaches and asks what it might mean for contemporary readers to attempt to read Scripture through the eyes of the Evangelists. In particular, Hays carefully describes the Evangelists' practice of figural reading--an imaginative and retrospective move that creates narrative continuity and wholeness. He shows how each Gospel artfully uses scriptural echoes to re-narrate Israel's story, to assert that Jesus is the embodiment of Israel's God, and to prod the church in its vocation to engage the pagan world.

Note on the Author
Richard B. Hays (Ph.D. Emory University) is Dean and George Washington Ivey Professor of New Testament at Duke Divinity School. He is internationally recognized for his work on the letters of Paul and New Testament ethics. His books include The Moral Vision of the New Testament, The Faith of Jesus Christ, Echoes of Scripture in the Letters of Paul, a commentary on 1 Corinthians, and The Conversion of the Imagination. His most recent publication is entitled Reading Backwards, a book about the interpretation of the Old Testament in the Gospels. Dean Hays is an ordained minister in the United Methodist Church.

Where can I purchase Echoes of Scripture in the Gospels?
To purchase Echoes of Scripture in the Gospels, click here.

4. The Cost of Discipleship by Dietrich Bonhoeffer.



Brief Description
One of the most important theologians of the twentieth century illuminates the relationship between ourselves and the teachings of Jesus. What can the call to discipleship, the adherence to the word of Jesus, mean today to the businessman, the soldier, the laborer, or the aristocrat? What did Jesus mean to say to us? What is his will for us today? Drawing on the Sermon on the Mount, Dietrich Bonhoeffer answers these timeless questions by providing a seminal reading of the dichotomy between "cheap grace" and "costly grace." "Cheap grace," Bonhoeffer wrote, "is the grace we bestow on ourselves...grace without discipleship.... Costly grace is the gospel which must be sought again and again, the girl which must be asked for, the door at which a man must know.... It is costly because it costs a man his life, and it is grace because it gives a man the only true life."

The Cost of Discipleship is a compelling statement of the demands of sacrifice and ethical consistency from a man whose life and thought were exemplary articulations of a new type of leadership inspired by the Gospel, and imbued with the spirit of Christian humanism and a creative sense of civic duty.

Note on the Author
Dietrich Bonhoeffer was a German Protestant theologian important for his support of ecumenism and his view of Christianity's role in a secular world. His involvement in a plot to overthrow Adolf Hitler led to his imprisonment and execution. His Letters and Papers from Prison, published posthumously in 1951, is perhaps the most profound document of his convictions.

Where can I purchase The Cost of Discipleship?
To purchase The Cost of Discipleship, click here.

5. A Spiritual Formation Workbook: Small Group Resources for Nurturing Christian Growth by James Bryan Smith with Lynda Graybeal.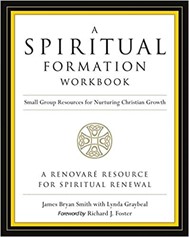 Brief Description
This beginning workbook for Spiritual Formation Groups features guidelines for starting a group, study plans for the first nine sessions, and a questionnaire that helps map the way ahead. Based upon six major dimensions of the spiritual life found in the life of Christ and Christian tradition: The Contemplative Tradition - The Holiness Tradition - The Charismatic Tradition - The Social Justice Tradition - The Evangelical Tradition - and The Incarnational Tradition, this workbook program provides all the necessary ingredients to start and maintain a Spiritual Formation Group.

Successfully used by thousands of Spiritual Formation Group participants, A Spiritual Formation Workbook has been completely revised to correlate with Richard J. Foster's Streams of Living Water. Its new and updated exercises and teachings offer fresh perspectives on Christian faith and practice.

Christian in perspective and ecumenical in breadth, RENOVARÉ (from the Latin, meaning "to renew") is an effort committed to the renewal of the Church. Founded by bestselling writer Richard J. Foster, RENOVARÉ provides individual churches with a balanced, practical, effective small-group strategy for spiritual growth.

Note on the Author
James Bryan Smith (M.Div., Yale University Divinity School, D.Min., Fuller Seminary) is a theology professor at Friends University in Wichita, KS and a writer and speaker in the area of Christian spiritual formation. He also serves as the director of the Christian Spiritual Formation Institute at Friends University.

A founding member of Richard J. Foster's spiritual renewal ministry, Renovaré Smith is an ordained United Methodist Church minister and has served in various capacities in local churches. Smith is also the author of A Spiritual Formation Workbook, Devotional Classics (with Richard Foster), Embracing the Love of God, Rich Mullins: An Arrow Pointing to Heaven and Room of Marvels.

Where can I purchase A Spiritual Formation Workbook?
To purchase A Spiritual Formation Workbook, click here.