December Update
It's so hard to summarize a year in a few short paragraphs, but here goes! There were certainly some tough times in 2021, notably the ongoing pandemic, another earthquake in Haiti, and a seemingly unbearable amount of unrest in Haiti. However, our family has had many memorable times this year and we hope you'll enjoy hearing about them.

When Renel & I got married in 2009 we made a conscientious decision to not plan too far in advance. Both of us were on paths in our lives that we never would have imagined, and never could have pre-planned. It was a bit scary to not have a plan for the next 5-10 years (at least for me!) but we felt like God had brought us together against many odds and we wanted to see why.

We entered 2021 anticipating going back to Haiti as a family…thinking that Covid was going to wrap up, not expecting Haiti's President to be assassinated, and not imagining that the unrest in Haiti would spiral into new depths. We were saddened to watch the situation in Haiti deteriorate and disappointed not to be able to travel to Haiti. However, we have experienced many blessings in our extended time in Canada, and we're humbled to see the effect Alongside is having in Haiti.

So far this year we have over 150 donor partners (almost double last year!) and we've been able to expand our sponsorship program to 49 students, provide much needed relief aid, and increase the number of small business loans to 16. So many families have been blessed by these programs. Thanks to technology I communicate with Haiti daily and our staff (Luckner & Garry) continue to do a great job. Despite our eagerness to go to Haiti, we acknowledge how effective it is for me to be doing Alongside's administration from Canada.

On the family front, Renel has had a full year of framing work with our good friend Albert. One of Renel's highlights at work this year was helping a chicken farmer repair his barn after the Sumas Prairie flood. He came home that night excited about what they accomplished together and said the camaraderie of the group reminded him of Haiti. While Renel enjoys living in Canada, it is tough on him to be away from his family & friends, especially when he knows how difficult life is for them lately. Renel spends many hours on the phone with Haiti and he is so grateful to have an avenue to help his beloved friends & family through Alongside.

One of the things the kids miss most about Haiti is the food. I'm not sure if it's the actual food they miss… it may be the adventure of shopping at the market, helping to cook the meals, or the fact that we always share meals with friends. Jelani has a special relationship with one of the local motorcycle drivers and he often gets to sit on the front of the motorcycle when he goes to pick up his favourite "fritay" meal (fried chicken & plantains). For Renel's birthday in September the kids decided he deserved an authentic Haitian meal. I cooked rice & beans, fried chicken (Haitian style!), mashed vegetables, fried plantains and piklies (spicy coleslaw). It took me an embarrassingly long time to prepare & cook the meal but it was worth it to hear Renel explain it in detail to his mom on the phone the next day. I'm already planning my New Years Day pot of Soup Joumou - I've yet to master the dish - but I have a good feeling about this years pot as I've found a source of goat meat!
We continue to homeschool throughout the Distributed Learning program at Heritage Christian Online school. Hasannah is in grade 4 this year and her favourite subject continues to be Math. She already has her heart set on being a teacher and she loves when I am busy with Alongside business so she can be Jelani's substitute Math teacher. When I peek over I see a lot of finger wagging & red ink being used… amazingly Jelani enjoys these lessons as well! Hasannah played soccer & field lacrosse this past Fall and will be playing box lacrosse in the Spring. She has made some good friends on both teams and really enjoys it.

Jelani is in grade 3 this year and has just started taking piano lessons. He's been listening to Hasannah practice for the past few years and is excited to finally be doing it himself. He's a quick study and is loving playing Christmas carols already - "jingle bells, batman smells…." Jelani is playing rugby and soccer this Fall and he will be going into his second year of box lacrosse in the Spring.
Thank you for taking the time to read about what has been happening in our family this year. I'd love to connect with you in person, or on the phone, in the new year.
We sincerely appreciate your partnership. Our family wishes you and yours a very Merry Christmas, and a happy New Year!

Rebecca (and Renel, Hasannah & Jelani)
Executive Director
Alongside Families in Haiti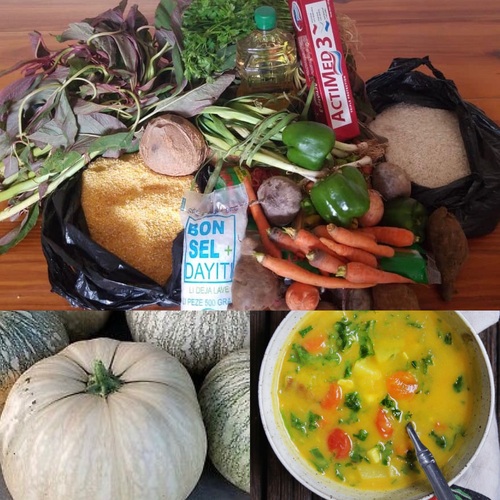 This holiday season we will be providing our families (and hopefully many others in the community) with a nutritious food hamper that will not only provide for them physically but encourage them to celebrate their heritage. We are 10 Christmas hampers short of being able to provide all of our families with a hamper on January 1st.

If you are thinking of making an end of year donation here are some areas to consider:

Soup Joumou Christmas Hamper
Personal Support for Rebecca
Thank you for partnering with us to make this New Years Day special for our families in Haiti. Hampers were delivered over the past few days and today the students received a hygiene kit & a special toy.

Just as we are praying for our families in Haiti, we pray that this holiday season brings you joy & peace in unexpected and miraculous ways.

Happy Holidays!
Alongside Families in Haiti Society
Our vision is for all families in Haiti to have access to education and have sufficient income to be able to provide for their family's essential needs. We will work towards our vision by coming alongside families, and family units, in practical ways.
SPONSORSHIP
Change is possible!
Our passion is to come alongside families to strengthen them and empower them to build their capacity in sustaining ways. We recognize that change takes time and too often a child's education is cut short when the family has minimal resources.
You can come alongside a family, and help them achieve financial sustainability, by sponsoring their child to attend Elementary School, High School or Post-Secondary Education.
A sponsored child will have their tuition and fees paid, and be provided with their required text books. Families are encouraged to participate in the education process by providing uniforms, supplies and transportation (when necessary). We believe it is important for families to be part of the process and if they are not financially able, they will be encouraged to participate in our Small Business Loan program.
The cost of sponsorship varies depending on the level of education:
Elementary School: $30/month
High School: $40/month
Post-Secondary: minimum $50/month (depending on career path)
FOR MORE DETAILS, CLICK HERE!