Our vision is for all families in Haiti to have access to education and have sufficient income to be able to provide for their family's essential needs. We will work towards our vision by coming alongside families, and family units, in practical ways.
SPONSORSHIP
Change is possible!
Our passion is to come alongside families to strengthen them and empower them to build their capacity in sustaining ways. We recognize that change takes time and too often a child's education is cut short when the family has minimal resources.
You can come alongside a family, and help them achieve financial sustainability, by sponsoring their child to attend Elementary School, High School or Post-Secondary Education.
A sponsored child will have their tuition and fees paid, and be provided with their required text books. Families are encouraged to participate in the education process by providing uniforms, supplies and transportation (when necessary). We believe it is important for families to be part of the process and if they are not financially able, they will be encouraged to participate in our Small Business Loan program.
The cost of sponsorship varies depending on the level of education:
Elementary School: $30/month
High School: $40/month
Post-Secondary: minimum $50/month (depending on career path)
FOR MORE DETAILS, CLICK HERE!
May 2021 Prayer Requests

Please pray for our two Haitian staff, Luckner & Garry (pictured with Hasannah & Jelani Honorat):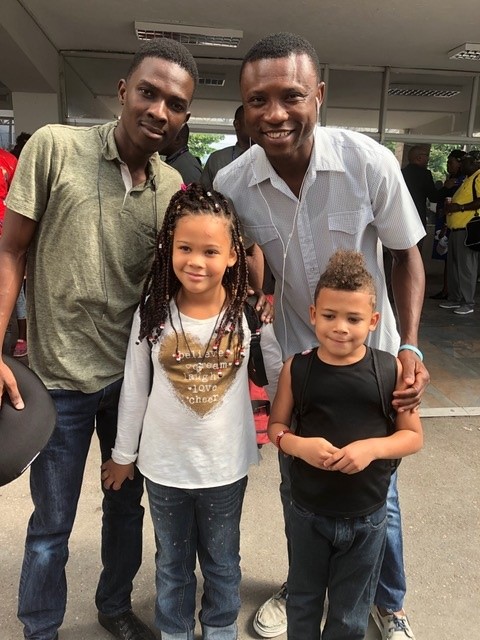 1. That they will be bold & courageous in their witness.
They are having many opportunities to share the gospel as they build relationships with students & families.
2. That they will be kept safe amongst the increased unrest & kidnappings (for random). Unfortunately their
connections with foreigners put them at an increased risk.

We are considering digging a water well in the northern mountain community of Mount Blan. Currently the villagers
need to walk several hours to the nearest fresh water source and because it is often the children's job to collect water
it means that many children are not able to go to school. Please pray for discernment and that we will be able to find a reputable drilling company that will be willing to drill in this difficult location (due to mountainous terrain & narrow dirt roads).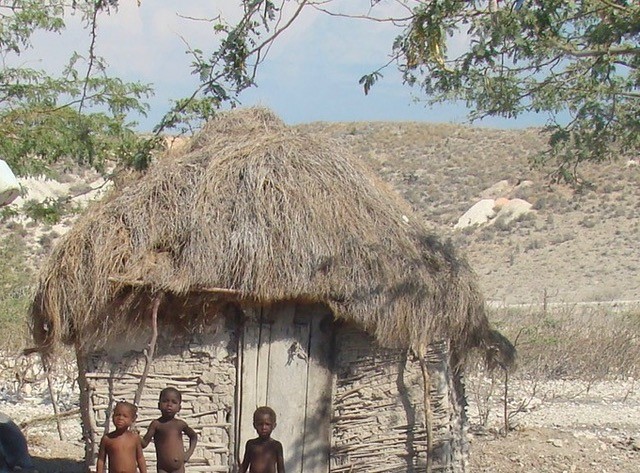 Friends & Family at PCC, thank you so much for the positive response to our virtual Missional Moment in March! Your generosity resulted in several students being sponsored as well as a few donations to our General Fund & our Small Business Loan program. We appreciate each new partnership very much!
Haiti always seems to have a pressing issue that is igniting violent unrest. The current issue is the Constitutional Referendum that is schedule for later this month. You can read more about the referendum

HERE! Things have become so tense in Port-au-Prince, and the surrounding communities, that it has become difficult for people to travel outside their neighbourhoods.

It is very difficult to get accurate information about the

Covid-19 pandemic in Haiti

but what we know for sure is that our families are

more concerned

about this third wave then they have been so far. The Miami Herald (see article

HERE) is reporting that the UK & the Brazil variant have been detected in Haiti, and while they are expecting the AstraZeneca vaccine to arrive later this month it is unlikely that many Haitians will be willing to take the vaccine.

Due to the increasing Covid cases the government has asked all

schools to finish by June 11th, and to forego any large assemblies & graduations. We have contracted a

local seamstress in Haiti

to make cloth masks for all of our families. Five mask will cost us $15.

If you would like to join us in this effort you can make a donation to the gift catalogue using the link below and we will increase our order. This is a great way to

support a local business

and provide people with necessary PPE.

We are already looking towards

next year's school year

and we are excited to introduce you to some

new students and their families. We will be sharing their stories on social media throughout the coming months. You can also use the link below to see the students who still need a sponsors.

We had such a great response to our Mother's Day fundraiser that we decided to go even

bigger for Father's Day... we're going to buy a

DUMP TRUCK!!!

Rony is a skilled driver, has decades of experience, and is so determined to own his own truck that he has been planning and saving for years. We will be walking alongside Rony but the vision, determination & hard work all come from Rony. This is what empowerment looks like. The (second hand) dump truck Rony wants to buy will cost him $6,000 and he has half of that saved already.

We need to raise $3,000 for this loan.

Will you consider partnering with us to make this loan happen? If you donate on behalf of your Dad we will send him a special email on Father's Day.
Rony is a 48 years old male that lives in Gonaives and this is his story...
Rony is the middle of many siblings and has always had a special bond with his dad. His family grew up in Gonaives
where Rony still lives with his wife and 7 children. His parents live very close to them and they visit each other daily.

Rony's dad taught him to be a miner and Rony has since worked in the sand/rock mines near Gonaives for as long as he can remember. He started when he was young by gathering rocks into piles so that the men could more quickly pick them up when the truck passed. He was given a bit of cash to say "thank you" by the men. He did a similar thing in the sand mines. He and his friends would scrap away at the mountain where they found a vein of fine white sand. The veins would quickly turn into dangerous caves that would collapse without warning. It was a dangerous job and the workers were happy to pick up the sand that the boys had scraped away instead of having to dig new veins themselves. The cash Rony made when he was young wasn't much, but it was enough to instill in him the value, and reward, of hard work.

Rony dropped out of school when he was in Grade 7 and he joined a truck crew. Each truck has its own crew and a long list of guys who will replace workers if they are too slow or get hurt! Rony started as a labourer who was responsible for loading the rocks into trucks by hand, or shovelling the sand over the high edge of the truck bed. It was tough work that took a toll on his body and he found it very difficult to eat well enough to keep himself strong & energized.

Rony's father has diabetes and it became necessary to amputate both of his legs. This put an enormous pressure on Rony to not only provide for his own growing family but also provide for his parents. Rony got his driver's license thinking that would increase his earning ability but it didn't work out as well as he hoped. A driver leases a truck and is in charge of the crew. By the time he pays the crew, services the truck, fills up the truck with gas, and pays the lease there is often very little left over for him.

Rony has requested a loan from Alongside so that he can purchase his own truck. We applaud Rony's work ethic and are excited to be able to walk alongside him as he builds a business that can support his family and his parents.

That is just a glimpse of what has been happening lately! Follow us on social media and subscribe to our newsletter to get more regular information. We thank God for inspiring our vision, providing leadership to our mission, and surrounding us with partners that are making it possible.

Rebecca & Renel Honorat