MARY JANE'S STORY
A Residential School Experience | A Shameful History | A Response



Parents were threatened with jail time if they refused to bring us to the residential school. It was a law.
My name is Nk'xetko, my English name is Mary Jane. At age 6 when my parents dropped me and my three older sisters off at Kamloops Residential School I went to the Junior Girls Dorm. My sisters went to their Dorms and I never saw them again, besides it was against rules to go into a different dorm.
I panicked because I couldn't remember my name. I ran to find Seepeetza to ask. She said, "Mary Jane. Repeat it ten times." I needn't have bothered because I was assigned the number 39 and that was what I was called.
It was a type of abandonment and loss, the disconnection from family for 288 days of the year was a type of suffering that is indescribable. At night in the dorms we cried ourselves to sleep and there was no comfort. We lived in fear at night, "Don't leave your beds - there are devils under your beds." Kids cried at night because they were terrified to go down the hall to the washroom, they wet their pants.
Abuse was constant during the day, whippings with the "strap" was a regular occurrence. The nun kept the strap inside the left sleeve of her black habit for easy access. We got yelled at by the nuns who said, "You good for nothing. You'll never amount to anything. You are worthless." We felt theatened and intimidated at all times.

Continue reading Mary Jane's Story here!
TIM & LANA HIGGINBOTHAM


For more information about what we do, check out our website at:
APRIL UPDATE
"There is nothing more sad or glorious than generations changing hands..." John Mellencamp

"What can I give back to God for the blessings he's poured out on me? I'll lift high the cup of salvation—a toast to God! I'll pray in the name of God; I'll complete what I promised God I'd do, and I'll do it together with his people. When they arrive at the gates of death, God welcomes those who love him. Oh, God, here I am, your servant, your faithful servant: set me free for your service!" – Psalm 116

It is with great sadness that we mark the passing of Lana's dad, Gordon Tansley, this past March 18. He was 83. Many reading this knew him so here are a few words in remembrance.
Born in 1938 in Provost, Alberta, his family settled in Kamloops in 1948. His love for hockey began at the age of ten and he spent endless hours at the local rink. He played junior hockey in Melville, Saskatchewan, and attended the Montreal Canadians training camp in 1958. He returned to BC where he played in the Western Hockey League and went back to school. He played for the Seattle Totems in 1960/62 before being drafted by the Boston Bruins. Ultimately, he did not see hockey in his future and returned to pursue education. He married the love of his life, Diane Veness, in 1964.

He started his teaching career in Richmond, BC and then moved back to Kamloops with his wife and three daughters. He finished his Masters Degree and went into administration...retiring as a principal in 2000. As a principal and teacher, he deeply cared for his students. He was known for his walks past the students' smoke pit to stop and chat and his "no drugs/alcohol speech" at the start of every school dance. There has been an outpouring of great stories and memories from former students on a Kamloops Facebook site over the last weeks.

Pics top left and clockwise...Lana hugs her dad at our wedding in 1989...our first home at Seattle Pacific University...with wife Diane and handbags designed by Brooke...with Jordan at a local lake a few years ago.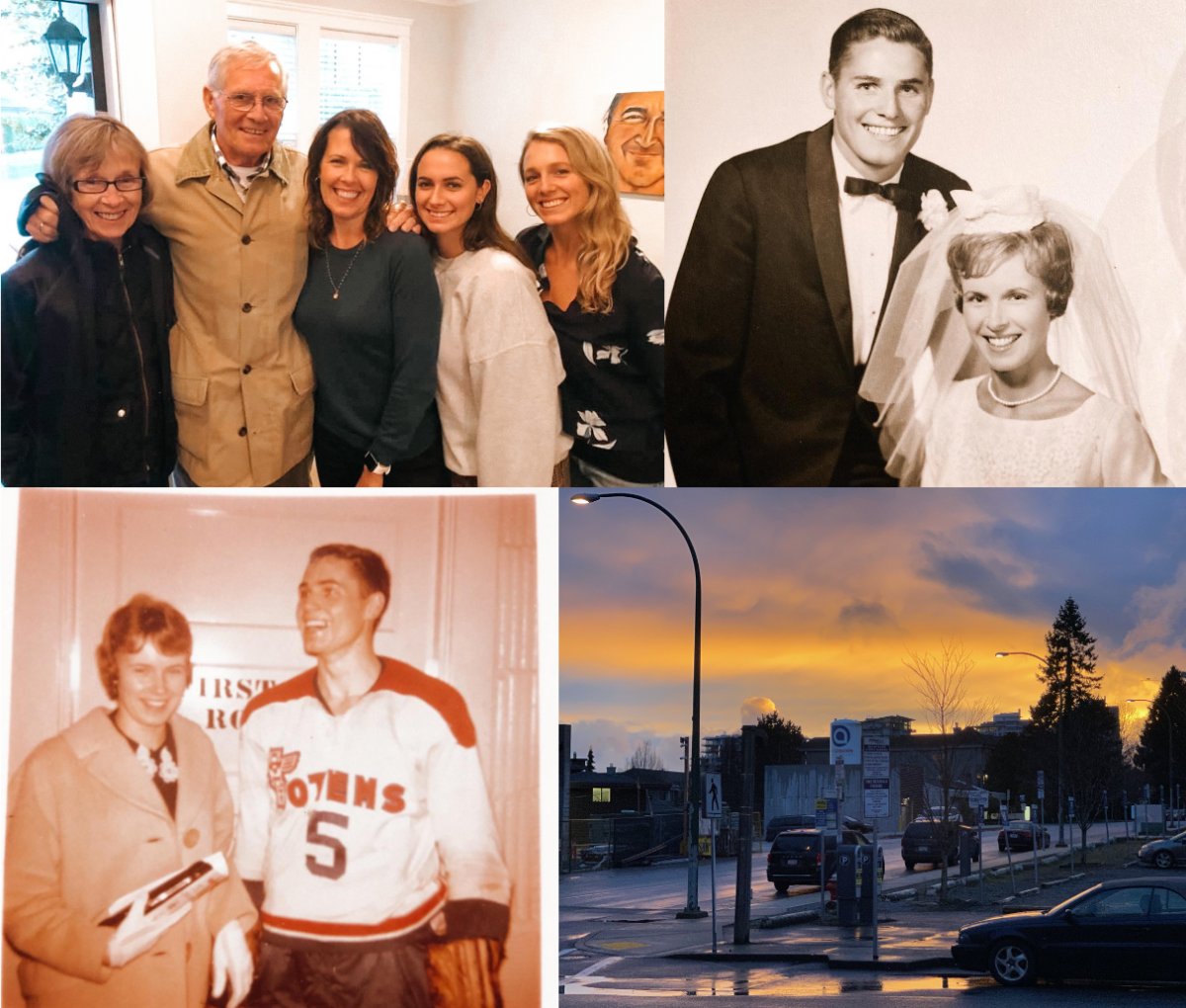 Gordon and Diane created many happy memories for their three daughters which grew to include grandchildren and a great grandchild before he passed.
Gordon's belief in Christ was prevalent through his day-to-day living. His days started with devotions and prayer and he brought an abundance of peace and strength to family members. He was loved beyond measure, well respected and admired by his family, friends and former students.
A favourite refrain of my father-in-law was, "Ages and stages." He meant a ton to me.



I first met Gordon in the 70s…I was just a kid. I lived on the Douglas Lake rez with my parents and we were up in Kamloops for church. The Tansleys invited us over for lunch…apparently something they often did for visitors. I was enthralled with their outdoor pool…much later it would be a shinier object that brought me around.

Pics top left and clockwise...a few months ago at our home...wedding day...the sun broke through the clouds at White Rock Hospital late in the afternoon Gordon passed...hockey with Seattle Totems

A few of my memories...

We all laugh at some of the pictures on the walls at grandpa and grandma's house. He never hesitated to put photos of the family and loved ones on his walls. They were over pixelated, sometimes out of focus and of course had sticky smiley faces over ex-boyfriends.

It reminds me of Native families who have their 'wealth on their walls'…not certificates of accomplishments or degrees or paintings from some exotic vacation they've been on…but photos of the things they hold dearest in life…photos of their kids and families and grandkids.

I appreciated the way he loved my southern kin...my late grandmother Hitchcock...the relatives he met at our wedding and on a trip to Florida to meet other Higginbothams.

Gordon loved history, politics and culture. He was ahead of his time when it came to understanding First Nations rights. A few times he required his law class in Kamloops to hike to the top of a local mountain overlooking the city. Gordon arranged for Manny Jules, chief at the time, to fly on a helicopter up to the top of Mt. Paul and give the Native side of the story of the history of Kamloops. Each table at our wedding in 1989 was adorned with little US and CDN flags. He said Lana was his contribution to free trade (one of the biggest economic ideas of the mid to late '80s).

He was not a perfect person and had his shortcomings (just like the rest of us). Honestly, his recognitions of his imperfections seemed to lend a lot of grace to he was and became. Gordon recognized the complexity of life...this meant a lot to me…he was one of the first men of his generation who really exhibited grace…that we connect and understand each other from our shared brokenness more than anything else.

8 Tracks, CDs & Napster..

In 1988 I spent $45 for a bootleg U2 album in East Van. It was a double record of live tunes from their Joshua Tree tour. It felt like discovering one of those bars that gets you into the chocolate factory.

Around the same time, my friend at Trinity Western University showed me this thing called a CD. He didn't have anything to play it on but wanted one before they sold out.

Fast forward a few years later to my cousin's house in Augusta, GA. This phenomenon called Napster was taking the internet by storm. For music lovers, it was some sort of shady promised land. Almost any song, studio or live, could be found through this soon to be illegal file sharing platform. We downloaded every R.E.M. tune we could find.

A few years back, a friend told me to subscribe to Spotify. "It's a game changer," he quipped. He was right. This time artists did make money...forced to assimilate through market forces. I use Spotify constantly...the world of music at your fingertips.


A month ago, our local massage therapist (late 20s) was playing music. We chatted about the odd tune I liked. "No problem," she said and then sent her Spotify playlist of 1200 songs. Instantly. Basically free.


My elders talk about these things called 8 tracks. I spotted one once...bulky, awkward...like a grilled cheese sandwich on Texas toast. I'm that guy to my kids... lamenting how they'll never know the joy of listening to an album front to back...reading liner notes, etc.

The world has changed a lot and it feels like it isn't slowing down. Covid has forced almost every institution to fast forward 10 years or so.

We need to learn new ways of doing things and that's a leadership piece I've been working on the last year. We enlisted the help of Jolene Erlacher, a 'generational expert' based out of Chicago. She did an online seminar for staff. It was sobering and excellent.

Recruiting and keeping younger staff has proven challenging the last five to ten years. She spoke of the "Daniel Generation" ...a realization that those who join NAIM long-term will be exceptional. Also, that there is often a spiritual movement connected to significant cultural shifts.

Recently, a leader outside NAIM said, "The gifting that got you the foothold organizationally will not be the same to take you to the next level."

Covid has taught us many things that we will bring forward...streamlined organizational platforms, a coaching and teams approach for new staff and integration of younger perspectives into leadership.


The red and white sign above is typical of signs posted outside many Native communities these days. Thankfully, vaccinations are being administered and people are anticipating life resuming in normal ways.
Camps continue to be up in the air with current Covid restrictions. We are hoping to run a smaller and scaled down camp in Mt. Currie this summer. Church youth leaders have been calling and asking for updates. We can only move at the speed of government and community protocols.

A few weeks ago, a friend and I were up at Mt. Currie checking out the Red Soul Rising Bush Camp location. The elders on whose property we run the camp wanted to make some changes to the outdoor kitchen. Later in the day my friend told me one of the elders joked about telling local friends to "look out! The Christians are coming."

I asked if he thought she was being sarcastic or trying to distance herself from some of our collective bad history with Indigenous peoples. He didn't think so...he said she tells other groups about "the Christians" and RSR and said the pushback is mainly from non-Native groups wondering why they still partner with Christians. I think, and they verbalized, they genuinely miss the RSR connection and kids each summer.

Thanks for reading and listening!

Tim & Lana Higginbotham
NAIM staff and the ministries they represent are solely funded through and fully accountable to North America Indigenous Ministri