TIM & LANA HIGGINBOTHAM

Tim is the Operations Director of NAIM overseeing and supervising Regional Directors and ministries. He also works with NAIM staff and Native leaders in providing vision and leadership for current and future opportunities in and outside NAIM. Lana works full-time for Trinity Western University as the Director of Operations for the School of Human Kinetics and travels with Tim when she can.
For more information about what we do, check out our website at:
Update - October 2022
"There is nothing more sad or glorious than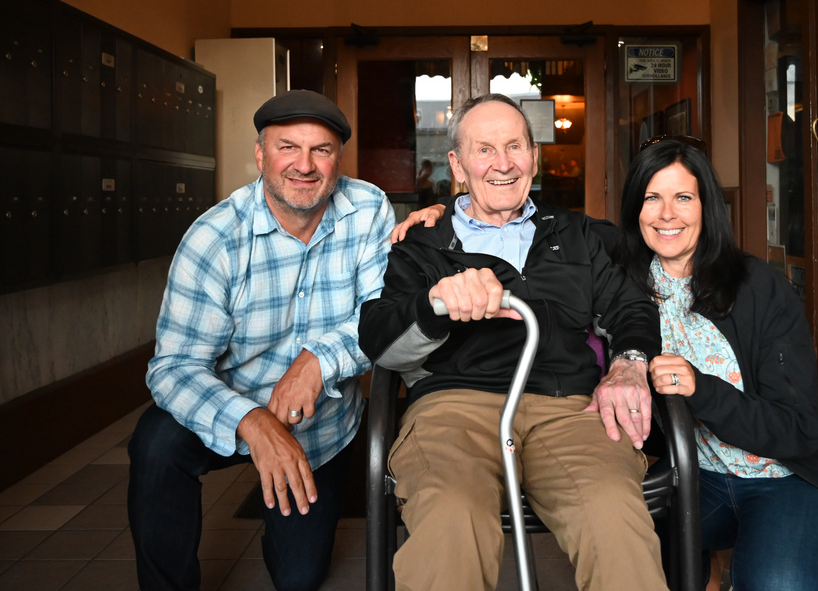 generations changing hands."
- John Mellencamp "Rain on the Scarecrow"

"As we increasingly integrate our life into the spiritual world of God, our life increasingly takes on the substance of the eternal. We are destined for a time when our life will be entirely sustained from spiritual realities and no longer dependent in any way upon the physical."
- Dallas Willard The Divine Conspiracy
Dear Friend,

I love fall...the start of high school/university and playing football and hockey. Now, it's enjoying the final produce from the garden and hoping the Seahawks can play .500 football. This fall, in particular, is a season of reflection and transition...the above quotes particularly relevant. Family and friends are going through significant health challenges...some have left this world and are no longer dependent in any way upon the physical. My aunt, Betty Higginbotham, entered the Heavenly Kingdom this past September 23. My dad's challenges with ampullary cancer and Parkinson's continue. He is sleeping more and his energy is dissipating. At the same time, we are expecting our first grandchild...a baby girl due mid-October! Our son Jordan and his partner, Taylor, will be the proud parents.
In June, my cousin Claire Holley from LA
(third from left) performed an intimate
concert for our townhouse complex. It was great to have my mom, cousin Bev (Jackson, MS) and sister Rachel's family (Salt Lake City) with us. Claire carries family stories through her music and it's a wonderful reminder of our heritage. Bev and Claire's late father is my Uncle Knox Chamblin whomarried us in 1989.

Mom celebrated her 80th birthday this
past August 28. In keeping up her reputation as a "sugarholic," she slammed through four desserts in the course of the afternoon/evening. An impressive feat.



After a two year "Covid absence," the Red Soul Rising (RSR) summer camp started back this summer. We held an abbreviated camp with a lower number of campers and volunteers. It has been a wonderful partnership between local churches, Crystal Lake church from Illinois and area Christians. The camp is held on land stewarded by Vern & Sylvia Shanoss (above right). Vern passed away this past September 30 and it is a significant loss. He was a gracious and friendly host that loved to talk about land and culture to youth and elders new to the territory.

Please pray for good follow-up with many of the youth that participated in summer camps in BC and beyond. For RSR, NAIM staff Temera & Wylie Millar live in Mount Currie, BC (where many of the youth who come out to RSR live). They want to connect more with local youth.
The Native American/First Nations youth demographic is the fastest growing age group in Canada. Myself and a few youth workers have been interviewing youth leaders across western Canada and the northwest US on what has been most effective in their ministries. This late November, we are meeting in person to dream new dreams and how we can best partner together in youth ministry. Please pray for this time.
All staff gathered to hear from different generational speakers this past August. A highlight was hearing from local Siksika First Nation elder, Vincent Yellow Old Woman, who spoke on the necessity of change and not being afraid. As with RSR
above, it was good to finally regather in person after two years of Zoom.

Culture is changing...this year staff were confronted by a young person changing genders demanding to be treated a certain way. At one of our summer camps, we had a similar situation, but with a soft spoken young person. These scenarios are becoming more common. We strive to understand the best way forward and have sought wisdom from others.
Pope Francis visited Canada this past July, with stops in the provinces of Alberta and Quebec and the territory of Nunavut. The trip mainly focused on apologizing for the Catholic Church's role in the Canadian Indian residential school system and reconciliation with the country's Indigenous peoples.
I loved what young NAIM staff member Isaac Eeles wrote: "Events like the Pope's visit to our community came and it began tearing up old wounds for some and softening hearts of others. It makes it a little more difficult to see paths forward. Maybe that is part of God's plan, to remind us that he can make new paths or that our paths are missing the mark. Or, just to remind us that so much of life isn't as black and white as we first accepted it to be. After his visit, we've had many conversations about what his visit meant for those we know in community, and part of the Edmonton Indigenous
community. These difficult conversations have proven to be vastly different from each other. Dene and I have recognized that the path forward to reconciliation can only be through Jesus, and then with each other, for it to be long lasting and healing. That being said, reconciliation work looks different for all of us individually. It must come from a place of humility, and understanding, but firstly, His love. Because love bears all things."
Please pray for us in leadership as we navigate these times...for courage, wisdom and the ability to change and adapt in the right ways.

"I'm praying not only for them, but also for those who will believe in me because of them and their witness about me. The goal is for all of them to become one heart and mind - just as you, Father, are in me and I in you, so they might be one heart and
mind with us. Then the world might believe that you, in fact, sent me." - John 17
Thanks for your partnership!
Tim & Lana Higginbotham
NAIM staff and the ministries they
represent are solely funded
through and fully accountable to North America Indigenous
Ministries.